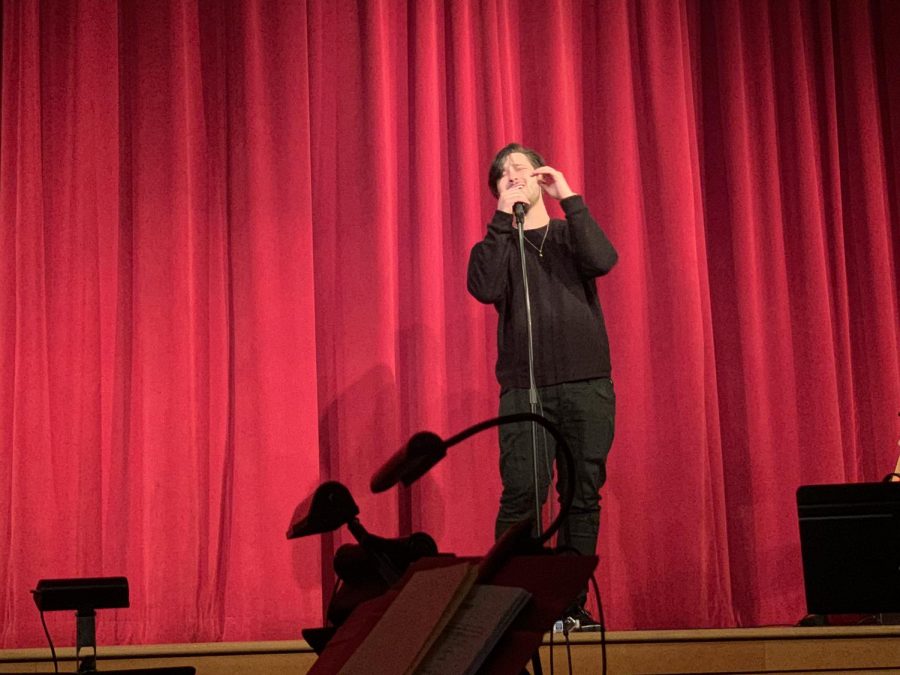 Kayla Gonzales
     22-year-old singer and songwriter Justin Hariz prioritizes connecting with his young audience through his music. 
    "What I want people to know about my music is if you and I did not know each other and if you attend one of my concerts, what you are feeling and what I am feeling is what connects us," Hariz said. 
     Hariz uses several social media platforms to interact with possible audiences and promote his music such as Instagram, YouTube, Spotify, TikTok, radio stations etc. 
     "When I release a song, I do a radio tour, so I go to stations and it's an hour interview and then I perform a song on the air." Hariz described. 
      Hariz has been passionate about music ever since he was a mere kindergartner. 
     "When I was 4,  my teacher pulled aside my parents and was like 'your kid is very musical and maybe you should look into doing stuff in music and acting' and so my music teacher gave me piano lessons. That's how I started my journey with music. I stayed with her up until I was 8," he recounted. 
     The dedicated singer aims to establish strong connections with his audience due to his own loss of a personal connection at a very young age. 
     "My mom passed away when I was 8 but 100% she knew [about my passion for music] and she was very supportive because she was already like that but nowadays if she was alive, I think she would definitely be supportive too," he explained. 
     The singer and lyricist of the hit single 'Think Of Me' further elaborates on his support system. 
     "My dad was super supportive and even to this day is on my team, behind my back so I got super lucky. He's totally like 'Go do this! Why are you not doing this!'" he recalled. 
     CalArts graduate Hariz started performing at a very young age, in order to branch out and make connections in the music world.
     "I started when I was like 14, 15, 16 I went to open mics 3-4 times a week just performing for strangers. The other thing I did was I made my own CD and handed it out to my classmates. That was the first thing I did to get my name out there," he said. 
     His first mentor was Howard Mason, an executive who happened to hear one of his songs and decided to train him. 
     "We went to his house downtown like 4 times a week to literally listen to music for 6 hours from everything, from the 60s and 50s and up. I song wrote everyday when I was with him and that was my process. Then, I ended up meeting my former former manager who I kept writing with and then put out OVRBRD (his first single) and then OVRBRD ended up doing really well, it got like a million and a half plays in a month and then I released a remix of it," he said. 
     Not only does he possess a euphonic voice, but also the ability to use words to convey heartfelt themes throughout his music such as the complications of love and the bittersweet impact of heartbreak. His first single 'OVRBRD,'which was released in 2017,  deals with said themes. 
     "When I was in high school, people would come up to me and tell me their problems even if I wasn't friends with them… This girl really loved her boyfriend and he loved her too but it was a toxic relationship. OVRBRD is about being the one to make that first step to break it off to make it better for both parties," Hariz elaborated. 
     Another song he released shortly after, in 2018, 'Think Of Me' reflects on his personal experiences with heartbreak and the complex process of moving on. 
     "This girl that I was dating had a boyfriend the entire time. I broke up with her and then like a couple months later, I still missed her and at the same time, I was angry and I still wished that she was thinking of me and hoped she was angry at herself, but I hope she is doing OK and it was all complicated because love is never simple," Hariz described. 
     HARIZ prides himself on being different, as compared to pop singers today. 
     "I think there is a lot of darker pop right now in the pop world and I think my style brings a little bit more of that lighter end and my ability to speak about harsher things but in a lighter way."
     HARIZ's main goal as a singer is to form a deep, meaningful connection with his audience and promote unity among them through his music. 
     "I want to make sure that we can get back to being connected to one another. I feel like there is a lot of diversity that is divisive and diversity should be bringing us together because we are all the same on the inside with our base emotions."
     Born and raised in Los Angeles, the up and coming singer quotes:
     "I love my life. I get to perform, I get to write songs. I can do this for the rest of my life."