NJ Elects New Governor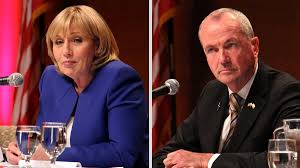 Advertisement
Hang on for a minute...we're trying to find some more stories you might like.
As the top two candidates, Phil Murphy and Kim Guadagno, battled for the spot for governor of New Jersey the political rift between the state's citizens grew to immense proportions.
Throughout their multiple political debates, the two described the courses of action they would take as governor of the state: Phil Murphy advocated for a stronger economy while Kim Guadagno was set on cutting property taxes.
Now that the election is over, and Phil Murphy, a Democrat, has taken the stage as NJ's new governor after Chris Christie's 8 year Republican rule, many people believe that his appointment is in every way a benefit to the people of New Jersey.
Freshman Ayanna Bey states that, "Chris Christie's scandals [made] it easy for his successor to achieve a higher approval rating. Even though he denied that he had anything to do with Bridge Gate it seemed like he was just putting everyone else under the bus so he could stay afloat. [He] did a terrible job as governor and any replacement would have been a good replacement compared to him."
During Murphy's campaign for governor against Guadagno, many people doubted his ability, Piscataway High School's AP US history teacher Mrs. Sudfield siad, "I [was not] thrilled with both choices, but I will say that the lieutenant governor, Kim Guadagno at least [came] out and said stuff where Phil Murphy [seemed] to be hiding in the weeds somewhere."
Despite this, and the state's major opposition to Murphy's desire to make New Jersey a sanctuary state in light of the recent terrorist attacks across the country, Murphy came out with the win because, according to what many say, he has directed his concerns to New Jersey's economy.
In Murphy's first political debate against Guadagno he stated,"This is an economy that's wrecked, that's been bankrupted, that's been ravished, over the past eight years. All we want to do is build a bridge to get back to investing again in what we used to do naturally: the middle class, and those who dream to get into the middle class. So that's funding public education, [and] meeting our pension obligations so that we're a state that folks trust again."
Overall, both Kim Guadagno and Phil Murphy focused on what many of New Jersey's citizens believe is a dire need for economic reform in the state.
"Our biggest issues are affordability in this state," Mrs. Sudfield says. "That's where the conversation should be going, but instead the conversation goes to all these distractors, and that's a problem because a lot of people cannot afford to stay in this state. If you work in this state, you can barely afford to live in this state and that's a problem- that's a huge problem."
With the new governor's appointment, topics like affordability and health care have resurfaced as issues that need to be addressed and citizens are speaking up about these and many other issues in their everyday lives. It's clear that if New Jersey wishes to truly thrive, the state needs Phil Murphy to take as many of the people's concerns into consideration and put them onto his political agenda.