Life Skills Classes form The Brew Crew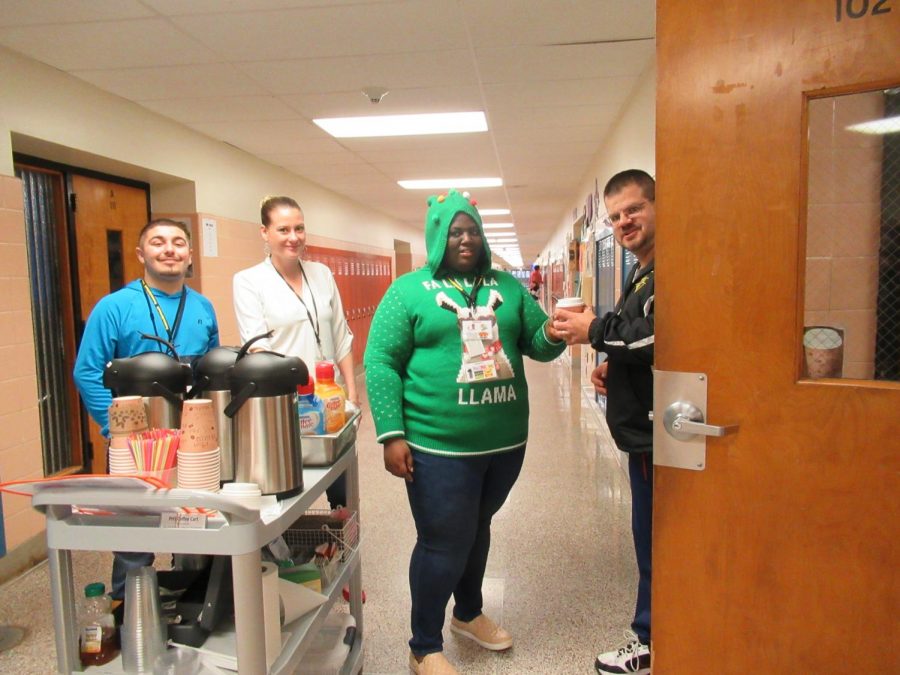 Angelika Ladia, Reporter
April 5, 2018
The Autism and Life Skills classes have come up with a clever way to earn money: the Brew Crew. The teachers who run this program are Ms. Leibowitz,  an English, Science and Life Skills teacher for children with learning disabilities, and Ms. Strafer, also an English teacher for kids with learning disabilities. Every morning, teachers in the Learning Disabilities department each take a cart and one of their students and they go around the school wheeling a cart offering tea or coffee to staff members. The idea first started when Ms. Leibowitz visited another school to observe their Autism program. Originally, the Autism and Life Skills programs would deliver pre-bought coffee twice a cycle. They have since changed their mode of transportation into a cart.
There are two carts, one of which goes around the Anthony building and the other around the G-Wing and Patton. The carts offer regular, decaf and iced coffee, hot cocoa, water and an assortment of teas. Teachers can pay on the spot or purchase a valued customer card, or prepaid card. The valued customer card is a punch card, and after 10 purchases the 11th drink is free. The prepaid card is a little different, it lets teachers pay for 10 drinks upfront so they don't always have to have cash with them. The prepaid card also affords teachers the 11th drink free.
While working with the coffee carts, the students learn skills like managing money, following an order, and washing and drying the dishes. John Alcanta, a 9th grader says, "I can clean and help at home. If I keep doing the coffee cart, I can learn to do things perfectly. It will influence me into doing my chores." This shows how the coffee cart is a great motivator for the students and how skills are applicable at home. While serving teachers, the students learn what some of the demands are and it prompts them to brainstorm ways to improve the cart.
The proceeds from the cart go towards maintaining the carts and helping to pay for Autism and Life Skills student's to go on field trips. In order to follow a community-based instruction, the students in the program visit places in the community to learn skills they would need to thrive in the world today. These trips provide kids with hands-on experiences which they can learn from and apply to their daily life. In an interview with one of the students John Alcanta, he said that " Trips are awesome and exciting. I get to have new experiences."
During special times, like the holiday season and April, which is the Autism Awareness Month, the Brew Crew donates money to organizations like Autism NJ. Around the school, they host events, such as door decorating and provide the winners with a food reward. Ms. Strafer says "The Brew Crew wishes to contribute more donations to Autism NJ in the future."