Students Begin to Return to PHS
After almost a year of remote learning, on March 1st, 2021, the students of Piscataway High School finally got the chance to step back into the building and see their teachers in person.
On March 13th, 2020, due to the exponential rise in COVID cases throughout the state of New Jersey, Piscataway High School closed down for what many students believed to be an extended Spring Break. Those students were wrong.
After almost a year of remote learning, on March 1st, 2021, the students of Piscataway High School finally got the chance to step back into the building and see their teachers in person. Around 360 students have returned to in-person schooling, and some are beginning to feel pressure from their peers for their decision to switch to hybrid.
Senior Timothy O' Reilly shares that, "People are putting up instagram polls [asking] 'are you going back to school, yes or no' and then they block everybody who says yes because they think they are irresponsible."
"I definitely felt judged for going back to school," another 12th grade student, who requested anonymity, voices, "It felt strange having my teachers announce they were glad to have a student in their class, and then proceed to mention the name of said student."
Even during these trying times, social pressure persists as O' Reilly expresses that, "people are afraid to go back because they think they are going to get cancelled."
However, despite this stigma, most students returning are content with the in-person experience.
"There are so few kids in school that really nothing can go wrong. There is probably a fraction of the amount of people you would see at a supermarket," shares O'Reilly.
"Class in school is a lot more engaging compared to remote learning. I found myself more attentive and awake being in class," another student, who asked not to be named, explains.
Along with mandated mask wearing, other safety procedures have also lived up to students' expectations.
"When entering the school, you must first give your name to make sure it's on [the] hybrid [list]. Then, you get your temperature checked. Then, you have to go to another faculty member to make sure you answered the COVID update questions," Ana, a PHS student, recounts.
Lunchroom etiquette has also been redesigned to promote social distancing.
Sophomore Skylar Tortajada describes, "[in the lunchrooms] we sit in desks that are six feet apart and face in one direction. There is hand sanitizer in every room and common area. The bathrooms open in shifts to allow for cleaning time and only two students are allowed in at one time."
Additionally, another student, who asked to remain anonymous, shares that "Once you sit at a desk [at lunch], you have to stay there. That's your assigned seat for the rest of the year."
Hallway procedures have also changed to prioritize the safety of all staff and students.
"There were cones dividing up the hallway so there was one way traffic through the whole school. The stairways are either up or down so there was no two way traffic," Timothy O' Reilly mentions.
Nevertheless, some classrooms are still having trouble adapting to the new hybrid format.
"The teachers are just facing their Zoom calls and I'm watching them do that," expresses O' Reilly.
Some other classrooms, however, have done well adapting to the changes.
"The zooms are usually projected on the board and the audio is put up so we can have whole class discussions with the kids on Zoom," Skylar Tortajada reports.
While this hybrid way of attending school is unheard of and unprecedented, the school and the students have adapted to create as much normalcy as possible amidst the pandemic.
Leave a Comment
About the Contributor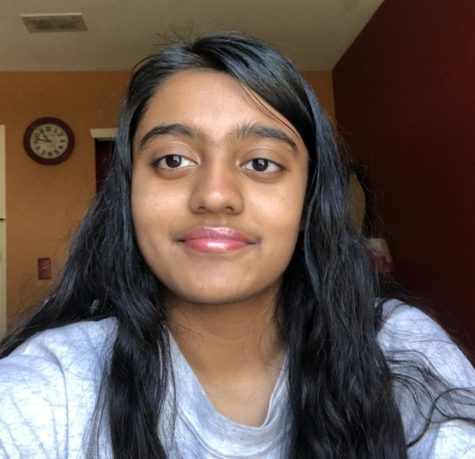 Naomi Mandar, School News/Student Life Editor
Hey Everyone! My name is Naomi Mandar. I am a Junior at PHS, and this is my first year writing on the Chieftain team. As a person who is almost always...