2021 Superchiefs Marching Band Recap
The Superchiefs marching band returns to create new memories and experiences for all!
The Piscataway High School Superchief Marching Band's 2021 competitive season has come to a close, and for the first time since before Covid-19, the band had a full competitive season. Here is a year in review for the Superchief marching band.
Last year at this time, with many schools in New Jersey participating in all-remote education, the marching band did not get to experience having a competitive season. Instead, director Ken Zampella organized an abbreviated spring season in order to provide his students with the opportunity to perform as a group yet again and give students and staff some sort of normalcy.
This year, however, the band was back on its feet and underwent an entire season without interruption. The Superchiefs' 2021 program was entitled "Happiness Is," with featured songs including Simple Gifts, Happy by Pharrell, Pachelbel's Canon, Ice Dance from the movie Edward Scissorhands, Aha! By Imogen Heap, Beethoven's Ode to Joy from Symphony No. 9, Asphalt Cocktail by John Mackey, and more. Mr. Ken Zampella oversaw the band as head director, backed by assistant director Christian Lopez. Seniors Nick Morgan and Charlotte Odiase filled the positions as band president and band vice president respectively. Soloists included senior Miranda Dickinson on flute and Nick Morgan on mellophone.
Logo for the 2021 Superchiefs Marching Band performance, designed by senior, drum line, and pit section leader David Amory.
"It was nice to get back to what we consider normal and get back to competing because that always adds that extra edge in performance when you're going up against other schools," Mr. Zampella added when asked about being able to have a competitive season again.
Especially after a shortened season, demonstrating high quality performances would not have been possible for the band without many hours spent practicing. The rigorous summer schedule for students involved Wednesday and Thursday night drills from 6-9 pm every week from the beginning of July through band camp. Band Camp was from Monday, August 23rd to Friday, August 27th, and the Superchiefs were at Piscataway High School from 8am-8pm every day, learning their music, their dots, (a term used in marching band to describe where an individual should be at any time in order to be a part of the form,) and bonding with one another.
Practice during the school year consisted of Tuesday night rehearsals from 6-9pm, Wednesday drill for wind instruments taking place from 2-4pm, while the drumline and color guard met from 6:30-9pm. Thursday's full band practice was from 2-4pm, and when not at home football games the Superchiefs were together from 2-4pm as well. This spanned from the beginning of September through the end of October. The first three Saturdays of September included 9am-2pm drill, and then competitions kicked off for the Superchiefs on September 25th, which was the annual Superchief Festival.
The Superchief Festival is an annual event that many current band members and alumni look forward to. This year marked the 43rd time this event took place on Piscataway's football field. Schools from all over New Jersey make their way to PHS and perform in competition. The Superchiefs, who headline the show and perform last, do not get to compete against other bands but rather perform as an exhibition. After missing out on the opportunity to have a festival last year, senior and band Vice President Charlotte Odiase was one of many who were very appreciative to see the return of this day again this season.
"I know it was a lot of work, and it was very difficult to pull together, especially because of the COVID mandates and having other schools come in, but I'm very grateful to Mr. Z and Mr. Lopez that we were able to have [the Superchief Festival]."
Odiase talked a little bit about being able to perform at a Superchief Festival once again, too, stating that "…just being able to march on the field for an audience that was there for us was just so nice to have. It's so cliche, and so corny to say, but you don't realize how significant that kind of stuff is until you go two years without it," she recollected. "To be back, and to show the underclassmen what being a Superchief is all about, that was nice. It was so nice to open up that kind of experience to them."
From a director's perspective, "having other bands come [to Piscataway] and hearing music for an entire day was great. Knowing that not just our school was getting back to normal, but bands all over the state and even all over the world are starting to perform again and do what they love again was cool. I was smiling all day," Zampella recalled.
October 2nd marked the first competitive performance for the Superchiefs at J.P. Stevens High School. In competition, bands are grouped by size, and this year Piscataway's Marching Band was Group AA. Group AA bands are the second smallest group in classification, and among this class at J.P. Stevens, Piscataway won 2nd place with a score of 73.4. The rest of the results are as follows:
Group AA
4th Place- Manalapan High School with a total score of 64.4
3rd Place- East Brunswick High School with a total score of 72.2
2nd Place- Piscataway High School with a total score of 73.4
1st Place- Bridgewater Raritan High School with a total score of 76.8
On Saturday, October 9th, the Superchiefs took to West Orange High School for their next competition. Out of 12 schools combined in the first half of the day, Piscataway had the third best score overall, and placed third in their respective class as well. Here are the results:
Group AA
6th Place- Lakeland Regional High School with a total score of 63.9
5th Place- Columbia High School with a total score of 72.0
4th Place- Parsippany High School with a total score of 75.5
3rd Place- Piscataway High School with a total score of 79.1
2nd Place- Morris Hills High School with a total score of 83.6
1st Place- Roxbury High School with a total score of 86.0
For Week 3 of the competitive season, it was a battle of the bands against rain. Due to inclement weather, Monroe's Marching Band Festival was performed indoors for bands in all groups. As a result, there was no score handed out, and no trophies awarded either.
The final competitive performance before states for the PHS marching band took place at Old Bridge on October 23rd. There were four Group AA bands, and Piscataway's own went home in 3rd. Here are the results:
Group AA
4th Place- East Brunswick High School with a total score of 81.16
3rd Place- Piscataway High School with a total score of 83.9
2nd Place- Clearview Regional High School with a total score of 87.2
1st Place- Bridgewater Raritan High School with a total score of 89.7
There was also an October 28th show at the Kenny Armwood Stadium, PHS's football stadium. This performance was dedicated to the parents among the Band Parent Association as a dedication and token of gratitude for all their hard work throughout the year. It also served as Senior Night, as it would be the last performance the class of 2022 would have on their home turf.
On Halloween, the Superchief Marching Band as well as 11 other Group AA bands traveled to the College of New Jersey to compete in the New Jersey Marching Band Directors' Association State Championships. Bands placing from 7th-12th did not get a score revealed, but the Top 6 were recognized at the award ceremony. Piscataway placed in the Top 50% with their final performance of "Happiness Is".
Group AA
6th Place- Morris Hills High School with a total score of 83.9
5th Place- Piscataway High School with a total score of 84.1
4th Place- West Windsor-Plainsboro High School North with a total score of 84.6
3rd Place- Clearview Regional High School with a total score of 87.4
2nd Place- Roxbury High School with a total score of 90.1
1st Place- Bridgewater Raritan High School with a total score of 91.3
*not included: Lakeland Regional High School, Woodbridge High School, Columbia High School, East Brunswick High School, Parsippany High School, and Parsippany Hills Regional High School.
Though the season has come to a close, the memories and friendships made will last a lifetime. Especially when a group of people are together for as long as the Superchiefs spent with each other this year.
When asked about what he was going to miss most, David Amory said, "Probably the people I met in marching band. I met so many good friends- family I would even say, in marching band. I'm going to miss them all."
The Superchiefs pride themselves on that precise thing; being a family. Anyone who has been a part of the marching band at PHS, whether for one year, four seasons, or anything in between, knows the saying, "Once a Superchief, Always a Superchief." The 2021 competitive season is done, but the memories and experiences last forever.
View Comments (1)
About the Contributor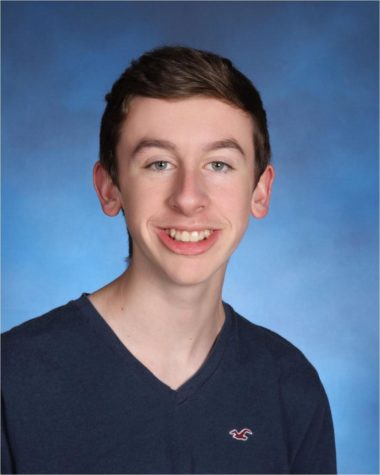 Nicholas Morgan, Athletics Editor
Hi! My name is Nick and I am a junior. This is my first year as a writer and editor for The Chieftain, but my interest stemmed from a hopeful future in...