Life as a Student Athlete at PHS
How PHS athletes manage to succeed on the field and in the classroom
The runner walks onto the track, the sound of her spikes clicking and clacking quickly behind her. She crouches down and gets into her starting position as she feels the beaming sun hit her back. She takes a deep breath as she hears the crowd roar.
"On your mark. Get set. POW!"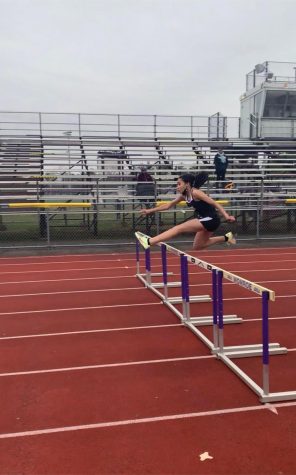 Being a PHS track athlete is not only about being successful on the track, but also being successful in the classroom, which takes a lot of hard work and dedication.
Balancing school and work is essential. In order to stay on the team, it is imperative for the athletes to maintain good grades. School and practice often take up a lot of their time due to the rigor of both commitments.
In order to be successful in both work and athletics, the athletes rely on good time management. Time management helps them prioritize and get things done, as well as make personal time for themselves. Agendas, calendars, and to do lists are often used to help.
Brooke'Lyn Drakeford, one of the captains for the girls track team at Piscataway high school explained that, "[Her] time management skills have definitely grown as [she] has gone through high school, especially while managing [track]. Using a planner to stay organized really helps [her] manage [her] time."
A consistent sleep schedule is also very important for the athletes to rest their mind and muscles, but can be very hard to achieve due to their busy schedule.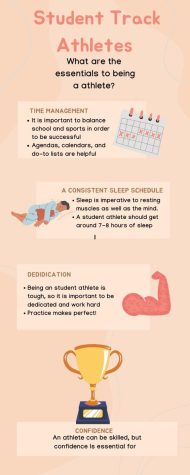 Madison Morgan, an accomplished sophomore mid distance runner for the Piscataway high school track team, was very honest about her sleep schedule. She said "If it's a day before a meet then [she] gets around six to eight hours, but if it's practice the next day more like two."
High school students in general often don't get a lot of sleep, so it is very common for other athletes to relate to the common issue of lack of sleep.
Dealing with nerves is also something these athletes deal with day to day. It is important for student athletes to be able to handle pressure and still be able to execute efficiently. Although Brooke'Lyn is an extremely successful runner she agreed that she does get nervous but she "… Reminds [herself] that [she] enjoys running and that [she] does not race to impress anyone else! [She] just focuses on [her] goals and stays confident in [her] ability to achieve them."
Although being a student athlete can be challenging, the athletes at Piscataway High school still love it. Brooke'Lyn shared, "I like having both an athletic and academic environment to make goals and spend time with friends in!"
Sports helps also teach life lessons and skills that can be used in their day to day lives. Madison enjoys track saying, " It is good to learn about time management and it is good for team work."
The next time you are watching high school students play a sport whether it is on the track, court, or field, remember all the hard work they do everyday to get to that point.
Leave a Comment