The Ups and Downs of College Applications: Episode 1
Recapping Summer and beginning my applications
Percy's Lessons to be learned
> If you tour a college, also tour the area around it.
> Not every college wants a common app essay, the word "common" is misleading. Make sure to identify what type of essay schools want.
> Look up the dates for when you have to submit your application for scholarship consideration by, it might be before the regular regular decision due date.
> Take your essay to like three different English teachers. Generally, two of the three will disagree on at least one aspect.
> Ms. Chilakos is a wonderful woman who will help you a lot when you are confused, even when she is confused too.
> If you need to get an extra transcript, because your college application is threatening to deny you admission if you don't tell them the classes you took outside of PHS, do it two weeks prior to your deadline.
> Early Action isn't worth it.
> Your teachers doing your recommendation letters will wait until the last minute to write and upload them. It will cause you full body agony.
The start of this episode is a little different from the start of all of the other ones. Yes, I lied in my introduction. There is no cookie cutter episode structure, it's more like a rough estimate. Episode 1 starts with a blast from the past, a recap of everything leading up to me starting to write this article. Then we dive into the present. So let's start with the colleges I visited, and how I decided on where I'm applying.
The Colleges
I'm going to break this down real simple, because I am applying to eleven places, and I visited some places I'm not applying to. I also looked at some places, but then decided they weren't worth the effort to apply to or visit because I just wasn't that interested. May I present to you, the Percy's Alignment chart of colleges (specific details of certain ones will be explored at a later date, to be determined.)
Figure 2. How much I like each place I'm applying or actually visited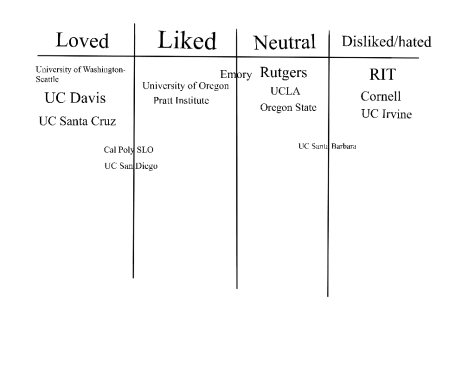 The only part of these charts I'm going to touch on today are the colleges that I visited and didn't like, because I think the methods I used in order to become an upstate New York hater were important in determining where I am applying to, setting up the rest of the episode.
Rochester Institute of Technology is a private school up in, you guessed it- Rochester, New York- Actually, you're wrong- RIT is located in Henrietta, NY, a suburb of Rochester, although I saw more abandoned strip malls than houses in Henrietta. The campus wasn't terrible, and neither were their programs- it's a pretty good school, especially for engineering and art. The deal breaker for me was the surrounding area being filled to the brim with decaying, empty strip malls. I am not going to live surrounded by the ghosts of Macy's and Burlington Coat Factory in a graveyard of American consumerism for four years.
The next school that I didn't like after my visit was Cornell. Wonderful University from an academic and architectural standpoint, but with an obscene price tag, and in a terrible location, at least for me. Ithaca is in the middle of nowhere, and it feels like the middle of nowhere. I would be restless and itching to leave within months. Plus it costs way too much, at $62,456 a year, not including the $17,088 for living on campus and the $1,000 or so for books ($80,544 total) Next.
UC Santa Barbara, one of the most beautiful campuses I have visited. The campus is located on picturesque white cliffs that you can hike down to get to the beach, and all of the dorms have an ocean view. Unlike Cornell or RIT, l liked the area. But it just didn't feel right to me. I'd live if I went there, but I probably wouldn't love going there, and I want to have that romanticized view of my alma mater like my parents do with their schools. I couldn't see a future like that there. Plus, I can't live in the dorms all four years at UCSB, and average rent in Santa Barbara for an apartment is $2,550, which is double the national average, and I would already have to pay out-of-state tuition on top of that.
Moving on, last but not least, we have UC Irvine. I was fortunate enough to know a person who works as a professor here, who gave me a really good tour of the campus. I liked the campus, even if it was a little bit ugly, the programs are great, their mascot is an Anteater and they call themselves the Eaters which is hilarious, and I would have loved living in the Lord of The Rings themed dorms (all of the buildings were named after places like Isengard, Rohan, Mirkwood or Khazad-dûm, made of bricks with Sindarin inscriptions, and had a courtyard with a huge map of Middle-Earth on the ground.) But my impression of the college changed when I went off campus to get lunch. I sat there eating my lunch afterwards, and everyone around me was dressed in business casual, talking about the office, the parking lot was filled with Teslas and Mercedes SUVs, and I was surrounded by towering office buildings and a golf course. All of my greatest fears about becoming an adult were surrounding me, because I hold the belief that each circle of hell is a different building in an office park. I hate that type of atmosphere so much that I am never returning to that wretched landscape.
If there's anything that you should take away from how I decided against places I was seriously considering applying to, it should be to tour your campuses, and the area around them, because it can be a make or break deal for you.
*Time machine noises as we jump to the present*
Now that we've discussed my adventures over the summer of deciding where I want to apply, we get to the important part of the year, the stress, the life-altering stuff, the actual application process. The process I didn't even start to look at until the first day of school, like a normal person. Despite every graduated upperclassman I know telling me to write my essay over the summer. Let's jump in.
Saturday, September 10th, 2022
I've started drafting my common app essay(s.) The issue with writing my common app essay, is that I don't have a shortage of ideas. I've got a lot of ideas, but my ideas are about two hundred words too short, and now I have four half written essays sitting in my Google docs. I'm tired from my cross country meet this morning. I've got an hour or two of homework already for AP classes, and now I'm sitting here with writer's block. I need a nap but I can't because I'm stuck writing.
Monday, September 12th 2022
There's been recent development in the college essay writing saga. University of Washington, which has my first due date, and arguably the most important school, doesn't use the common app essays. They've got their own 650 word maximum essay prompt, which is even vaguer than the common app prompts- "Tell us about a story in your life, describing an experience that either demonstrates your character or helped to shape it."
Horrifying. Why can't every college take the [REDACTED] common app essay?!
Wednesday, September 21st, 2022
Great visit to the PHS Writing Center today to get my UW essays looked over by an English teacher. Overall, I've seemed to hit the vague prompt pretty well, with some critiques here and there, and my supplementary short answer for them is "as good as it could possibly be." Mr. Lojko did advise me to go to another English teacher to see if they had similar advice, because then in that case it means that there is something I should legitimately fix in the essay. I've decided on my junior year AP Lang teacher, Ms. Killian. She has always had good insight.
Tuesday, September 26th, 2022
Well, I have terrible news. Ms. Killian has an entirely different opinion on my essays. She thinks I missed the prompt completely. Oh god, I literally do not know who to listen to on this. I think I might take them to a third English teacher, probably my current one, Mr. Scalora. Or I'll just rewrite – no offense to Mr. Lojko, but Ms Killian managed to turn my failing AP Lang essays into hundreds last year, so her (brutal) opinion holds a bit of weight with me. Hello, it's Percy from the future, this statement has a further development to it, so please continue reading as it is corrected later. I did not want to alter what I wrote in the moment in order to keep the authenticity of this series. Thanks.
Tuesday, October 4th, 2022
After my counselor meeting, where I felt incredibly prepared because I did everything that my counselor told me to do already, I made a terrible discovery: Emory University's regular decision due date is January 1st, but if I want to be considered for scholarships, the date is November 15th. [REDACTED]. Now I have to get my common app essay done and two supplementary essays, in addition to my two Washington essays by November 15th. I'm about to have so much fun!
Thursday, October 6th, 2022
I was able to get all of my homework done during school today, specifically so I could sit down and revise my essays. But then I had an awful cross country workout that I'm still feeling bad from and it's been a couple hours since, and now I don't want to do my essay. But then I also should do my essay, because I feel guilty for procrastinating on it.
Saturday, October 8th 2022
Why is this application so confusing and why can't it take number grades instead of letter grades??? This is stupid.
Sunday, October 9th 2022
So, I'm working on my UC application, and after a conversation with my parents (mostly my father telling me that he thinks I would really like this school, despite the fact they rejected his own application not once, but twice,) I think I'm going to add a twelfth school, UC Berkeley, previously in the looked at, not applying category.
I have now updated my application alignment charts: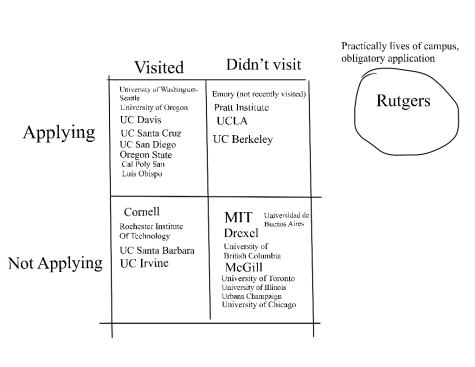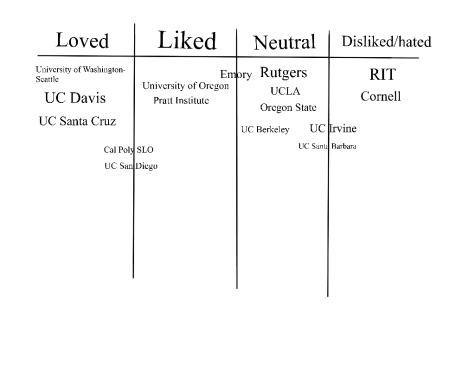 Monday, October 10th 2022
I had a wonderful meeting today with the amazing Ms. Chilakos during her office hours today. As soon as I told her I'm working on my UC applications she said, I quote, "I'm sorry." And then we spent an hour and a half trying to figure out whatever this A-G subject system that California schools use is and where personal finance fell into that using a 100 page packet and a whole lot of YouTube, and then, figuring out how to convert my grades to the Cal State letter system, which used another 100 page packet that we dug through. I've decided that California public universities HATE us out-of-state New Jerseyians. What did we ever do to them?
*in SpongeBob voice* Eight hours later
UCLA is evil. They're making me write two extra essays just for them and submit a portfolio for their Fine Arts program. Awful. Terrible. I hate them. Why would they do this to me? *Checks list,* This makes a grand total of 11 essays I have to write for my applications.
Friday, October 15th 2022
I went to the writing center and my main essay, which I'm now using as both my University of Washington essay and my common app essay, is good content wise, still a train wreck structurally according to a third English teacher, Ms. Drye. My supplementary essays on the other hand were fantastic and ready to go, which was nice.
Monday, October 17th
I'm feeling fantastic because literally all I need to do for my applications are my essays and I'm way ahead of my deadlines.
Tuesday, October 18th
So, I took college classes outside of PHS and on my applications, the colleges I'm applying to are now threatening me that if I don't give them a transcript from those classes, it could "jeopardize my admission." And in order to get the transcripts from my other classes, I have to go to the "National Student Clearinghouse," pay them a minimum of $5 for a transcript that will arrive in a minimum of five business days, and I can only access this transcript for 24 hours. This is the most ridiculous thing I have seen yet on my application, and I've seen some really ridiculous things. Thank god I wasn't waiting until the last second before my deadlines to get these.
Wednesday, Oct 19th
Fun fact I've learned today: teachers will wait until the last second to write your letters of recommendation. I updated one of my recommenders, Dr. Maurer, on my deadlines moving from November 1st to November 15th, and she was ecstatic that she could now write it after other people with deadlines of November 1st, in 12 days, whose letters she hadn't written yet.
Thursday, October 20th
I've done it. I've written all my essays. I've climbed to the top of the hill. But it's been a Sisyphean effort because now most of them need to get torn to shreds by a wonderful English teacher.
Friday, October 21st
I'm currently using this article to procrastinate revising my essays before I visit the writing center. I am so unmotivated to even look at them again. I'm also unmotivated to go and see if my introduction to this article series got sent back for revision. I'm very tired of everything.
Wednesday, October 26th
BREAK OUT THE NOISEMAKERS AND THE PARTY HATS, I'VE JUST SUBMITTED MY FIRST APPLICATION!!! Shout out to the wonderful school of California State Polytechnic San Luis Obispo for not requiring any essays, the only reason I was able to submit so early. One down, eleven more to go. I will go into more detail why I liked Cal Poly in the next episode.
Ft. The Cal Poly dad cap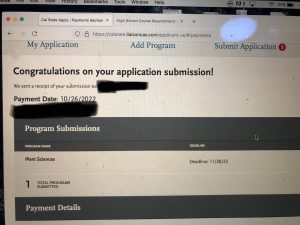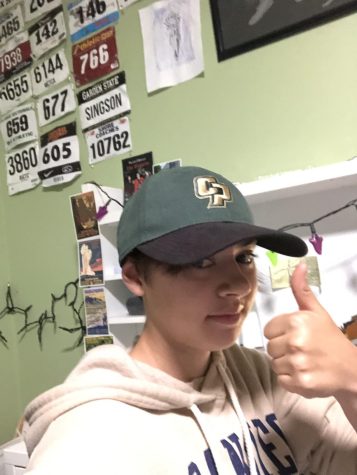 Monday, October 31st 2022
''Twas the night before Nov 1st
And all through America every senior was stirring, submitting their essay at last
Ghouls and Goblins roamed the streets
For the day was Halloween with ghosts made of sheets
The seniors were locked in their rooms
While all the others roamed the streets as witches on brooms
And me and myself with my regular decision dates
Had just gone out for a night of frights
The moon on the zombies of fog covered lawns
Gave life to the plastic decorations
When what to my wondering eyes should appear
Bleary eyed seniors crying huge tears
When from the Rutgers app a no url error appeared
I knew in a moment it must be a site crash
More rapid than eagles their fingers flew
And on the common app craze they typed in the names
Now Princeton! Now UPenn, now Columbia!
On Stevens, On Cornell, On NJIT and Rowan!
To the bottom of the essay, to the top of the supplements
Now submit away! Submit away! Submit away all!
And then, in a twinkling, I heard on discord
The sighs of relief and screams of distress
As I drew in my hand, and was turning around
Down came 11:59 PM for all of the college bound
Their eyes- how the watered, their faces so hollow
Their bodies were like sloths, their faces so tired
Their walk was the trot of a zombie
And masses they left their homes, an apocalypse of senioritus zombies
They sprang to the street, and I ran away
And here they came, shouting "Hey!"
I heard them exclaim, and I hid out of sight
But they found me, and they exclaimed
"I'm deferring to Early Action II"
This poem is based on a true story, it happened last night. Early Action is not worth it. Enjoy your Halloween, don't stress yourself, like all of my friends did.
Wednesday, November 2nd 2022
If I thought filling out the FAFSA was painful, well I was in for a real treat with College Board (the evil corporation)'s version of FAFSA that certain private schools require called CSS. Which apparently like 5 people know about, because I complained about it to my friends and they were like "what are you talking about?" It took two and a half hours and I had to answer questions like "How much do you, a seventeen year old, have saved for retirement?" Obviously, I answered that I had $10,000,000 in my 401k.
Friday, November 4th 2022
I am proud to announce that I have finalized my common app essay and my essay for University of Washington and I can submit my applications for UW, University of Oregon (just for my general application, more information on that later,) and Emory University. I just don't feel like submitting them right now. Gotta let them stew around for a little bit, and see if I want to make any changes.
Monday, November 7th, 2022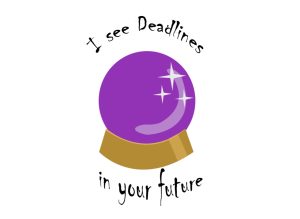 Wednesday, November 9th 2022
My teachers are stressing me out a lot because they are both waiting until the last minute (this long weekend) to submit my letters of recommendation for my November 15th deadline. GAAAHHH PLEASE STOP PROCRASTINATING EMORY NEEDS THESE LETTERS BY THE 15th SO I CAN BE A SCHOLAR AND QUALIFY FOR FULL RIDE. PLEASE.
I've had a crisis. I rewrote an essay for the University of Washington. Six days before the deadline. The only eyes who will read this are mine and my admissions officer, but I know this one is better. It's risky, but it's so much better than what I had before.
Saturday, Nov 12th
I've submitted!! Three days before the deadline for Emory University and University of Washington. Now I'm just worried I wasn't good enough for UW, which happens to be my first choice.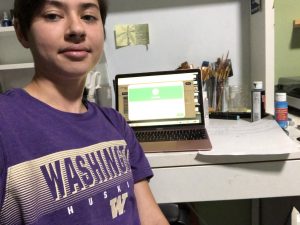 I have now also submitted to Rutgers. I feel nothing about this, it's Rutgers.
Sunday, November 13th
Thank you University of Washington for sending me into a panic with this cute, yet stressful email despite the fact I already submitted your application. Nothing like opening up an email to see a countdown timer and a threatening dog gif and then going to double check to see if my application went through.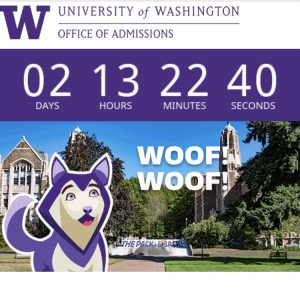 Monday, November 14th
I have had the most nerve racking morning, because one of my recommenders hadn't submitted their recommendation yet, and today was the cutoff for the letter arriving in time. All of AP Biology while I was doing a lab and all of Calculus, while I was learning a new topic, I was stressing over the one, missing letter. And then I got the email in my inbox saying that my last recommender uploaded at the beginning of period three. There has never been relief so sweet like that.
Tuesday, November 15th
Today's my first deadline, and the last day of episode one. I've already submitted my applications that are due today, so there's not much to say besides a reflection. I didn't think that when I started out that I would be ahead of schedule on my applications like I am now. In full honesty, the worst part is the essays, like everyone says, but the worst feeling is from the nerves when you are waiting on someone else to do part of your application, like a teacher recommendation because in dramatic terms, your entire future depends on someone else doing something on time. It's very exhausting, but I know it's worth it in the end.
Next episode, we'll be tackling the rest of my application submissions and the portfolios for my art program applications.
Signing off,
Percival Singson
Leave a Comment