Giggles and Terrors: PHS Students Discuss their Favorite Genres
In late September, around 74 Piscataway High School 9th, 10th, 11th, and 12th grade students were surveyed about their media consumption habits. The genres that people like change over time, so this survey was given to see what some of the genre trends there were when it came to watching and streaming tv shows. There were multiple different responses, but the most popular genre seemed to be horror, and comedy was a close second. So here are some of the interesting results!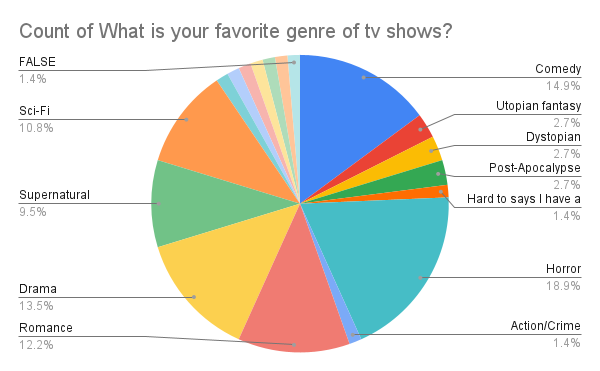 In the pie chart, horror made up 22% out of all the female votes, and 15.6% out of the male votes. Most of the reasons people gave for choosing horror were that they found it entertaining because they loved the suspense and being scared.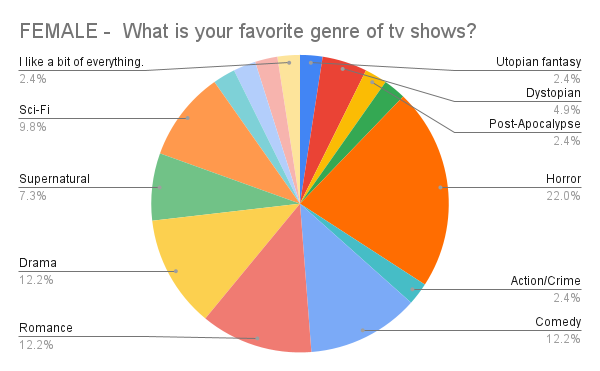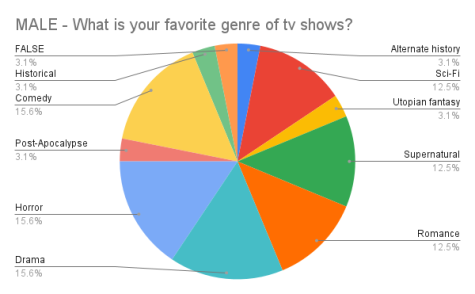 "I really like horrors and thrillers, and basically anything that gets my heart racing. It's fun to watch these and feel the suspense," said one of the junior females.
Another student, a senior female, explains how it feels to be on the edge of your seat when watching a good horror show. Have you ever felt this way watching a good horror film?
"That adrenaline feeling you get when something scary happens, or is about to happen!" she says.
According to Psychologist Glen D. Walters, horror entertainment draws an attraction from people through 3 main factors, tension, relevance, and unrealism. People, especially teens, look forward to horror because of the soundtracks, gore, mystery, and universal or personal relevance. Today this does not seem to be a problem because a lot of horror show directors have, or are learning over time, how to use these factors to catch a lot of young eyes for their films.
In addition, we also found that many of the students that preferred horror were seniors. In fact, 29.6% of all the seniors polled voted for horror!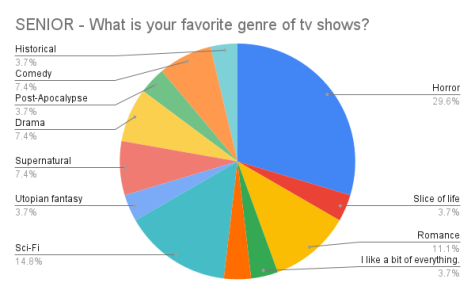 Many of the responses were about liking the mysterious and scary side of this genre. To illustrate this, we looked at a senior male's explaining some of the reasons he enjoys watching horror. Similar to other teens, he too likes horror because of the curiosity and fear that it transpires.
"This genre is my favorite because I like the mystery and scare that comes from it," he says.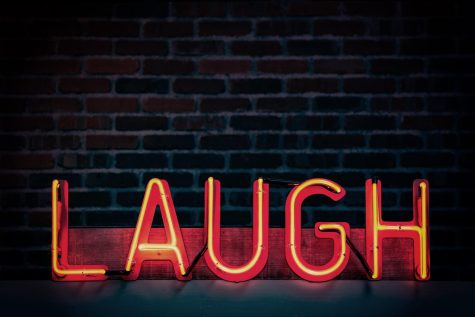 Another large trend that appeared in the data was comedy, which had around 14.9% of overall votes. By looking at the chart, we see that comedy was one the many popular genres with the juniors, being 18.5% of junior votes.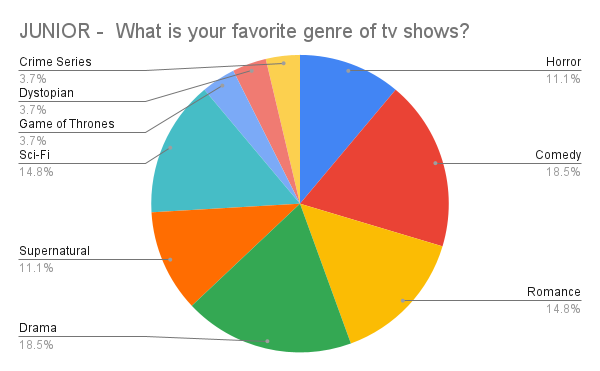 One of the junior females talks about what comedy does for her, and how she uses it to cope when feeling down.
"It helps brighten up my day, especially if I've had a rough one. Laughter is really the best medicine sometimes," said a junior female.
A lot of times when you are going through something, a good laugh is something you need, and joyful laughter is something that everyone should experience.
As believed by associate professor of psychology at SUNY, Dr. Shira Gabriel, comedy lightens the mood and can provide a space where the worries we have and everything happening around us in the world is non-existent.
Which is why it was surprising to see the overall votes for romance to be 12.2%, and action as only 1.4% given how many teen romance movies there are, and how both are like living in an alternate world. You would probably expect them to be sought after, but in this case that is not it.
To sum it up, this article shows that although the responses varied, many teens come to watch horror for the chills and thrills, and the comedy for laughs and relaxation.
Leave a Comment