Edison Supercharged Go Karting Review
Spending an action-packed day at the world's largest go kart track
Supercharged Entertainment in Edison, New Jersey is the world's largest indoor go karting track in the world, and people are certainly flocking to the venue for a ride. In addition to racing, Supercharged also offers axe throwing, bumper cars, a drop tower, a huge arcade, and a restaurant for kids and adults alike. Overall, Supercharged offers a super-fun way to spend a few hours, and is definitely worth a look if you're interested in seeing what go-kart racing is all about!
Supercharged Entertainment is located on Route 1 South near Topgolf and Chick-fil-A. The venue opened on December 19, 2022 which attracted a myriad of go karting enthusiasts to flock to the venue during winter break and the holidays.
Starting off with the pricing, a single ride which lasts 7 minutes is $29.00 and a bundle which includes 3 races is $78.00. Axe throwing, which is located on the second floor of the venue, is $28/person for an hour and $40/person for 90 minutes. Bumper cars are $7/person for each ride and the drop tower is $9/person for each ride.
For all 6 of my rides, I was placed on Track 2 which includes 8 left turns, 4 right turns, and the total length of the track is 1,781 feet. Track 1 includes 5 left turns, 8 right turns, and the total length of the track is 1,614 feet.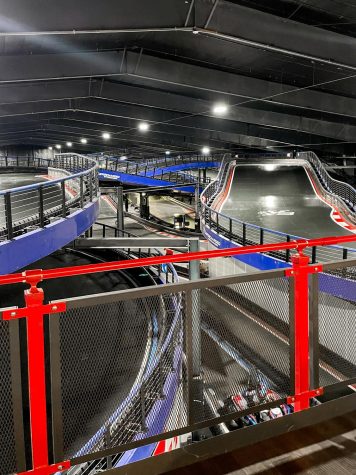 Supercharged offers 2 driving levels: Pro speed and Semi-Pro speed. Pro speed is only offered to drivers ages 15 and older, and the speed of the go kart is faster than Semi-Pro, which is offered to anyone upon request or for drivers under the age of 15. Also, Pro-speed offers an exclusive feature which allows drivers to boost their go kart for a short time period, but it recharges every 3 minutes during the race so that drivers don't drive erratically.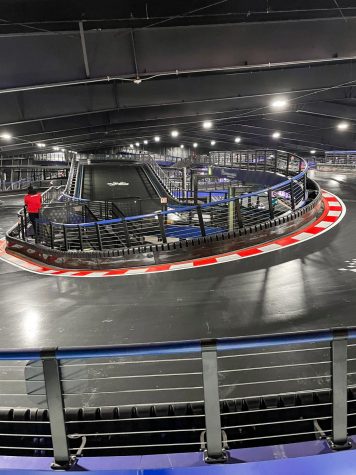 For my experience, I was fortunate enough to get in 6 rides over the course of 2 days on December 23, 2022 and December 29, 2022. On December 23 I went to the go kart venue from 3pm to around 9pm, and there were a fair amount of people. Conversely, when I went there on December 29th from noon to 4pm, there was a huge line that backed up outside to the parking lot. I had to wait 1 hour just to purchase my race times. Before the start of the race, a go kart attendant handed me a head sock, which was free. After that, one of the attendants showed me how to operate the go kart and pointed out all the flags that I had to look out for on the track. Once I put on the helmet and a neck protector, the attendant escorted my group to a holding station so that the front check-in station wouldn't be crowded.
After 7-10 minutes in the holding station, one of the attendants gave me the go kart number, and I directly went to the go kart. The strapping process is pretty easy, as all you have to do is put on a seatbelt that is directly located on your left shoulder. If you want to pull in your seat closer to your pedal and brake, then push the lever towards your steering wheel. Then, an attendant will look at your seatbelt and give you the green light if you follow all directions. After another 7 minute wait, you will slowly drive on the track and then 30 seconds after, you're off racing at max speed.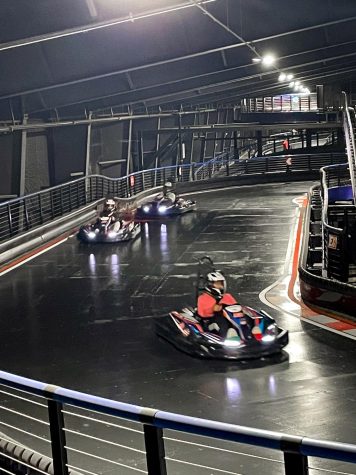 The first 2 laps may be a bit confusing as you have to discover the complicated layout, but after 4-5 laps you will be an expert of the layout. For me, I like competition, so trying to get a fast race lap is my primary goal. Turning on those sharp corners on the race track is a bit complicated, as I have seen many drivers turn way too early or late, and then their go-kart goes off spinning. For 5 out of my 6 races I was on Pro-speed and I definitely felt the difference between Pro-speed and Semi-Pro speed. All of my other competitors were focused on trying to win a trophy, but I ultimately was able to catch up with them and beat them for the majority of my races. My average race lap for Pro-speed was about 50-65 seconds. I felt myself blowing against the wind as I was breezing past other drivers, and each race in my opinion felt way less than 7 minutes.
When the go-kart attendant waves the finish flag, all the go-karts are automatically slowed down and every driver has to follow the attendant's signals to the exit area. Once you're back in the go-kart pit area, you have to wait an additional 2-5 minutes for all the drivers in the next race to slowly make their way to the track. After the next race is settled, every driver takes off their helmet and neck protector to give back to the go-kart attendant. You can keep the head sock for future races. It was a bit of a hassle to take off the helmet for the first time, but after a few more races I became more comfortable taking off the helmet without any assistance. The best part after exiting the race is when every driver runs to the TV to see their fastest lap, and very driver is ranked by their fastest lap on the leaderboard. However, the most annoying part about the TV's is that since they are literally in front of the entrance and exit, a lot of drivers take pictures of the leaderboard while blocking the doors. You almost have to squeeze in between the crowd to get to your next destination.
The arcade was actually bigger than I expected. The pricing for arcade credits start at $5 (20 credits) to $100 (520 credits). Each new arcade card cost an additional $2. The arcade has a lot of games that other arcades would have, like skeeball and down the clown, but I was fairly intrigued by the amount of VR games they had. Unfortunately, I wasn't able to try the bumper cars, drop tower, or the axe throwing for this review.
In terms of the restaurant quality, it was above standards. The staff were very generous and they recommended a lot of their favorite drinks and entrees to the customers. The tables were spotless. The entree I ordered was Bacon Mac and Cheese, and for some odd reason they don't sell the entree anymore when I recently checked the menu on their website. My entree was pretty cheesy and delicious, however, one down side of the entree was that it felt pretty small. I kind of expected a bit more Mac and Cheese in terms of the value which cost around 15-20 dollars at that time. Overall, I rate the food and service a solid 7/10.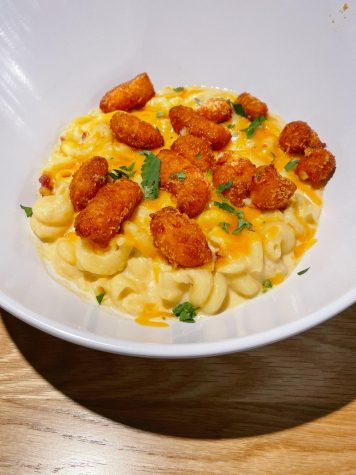 Every new store or venue would obviously have some problems, and Supercharged is no exception. The holding area outside the go-kart area is very small to fit a lot of people. Most people just wander around the arcade and the 2nd floor, but it would be nice if they added a few more seating areas so that drivers can relax and prepare for their upcoming race. Another problem is how there aren't enough vending machines. When I went there all the vending machines were broken and many people kept asking the employees where they could get water. The only place really to get free water is the bar on the 2nd floor. The last problem is how every race doesn't have a designated time for arrival. Each race ticket only has the race number and you have to hear the loud speaker for your race number to be called. I have seen many drivers rush to the go-kart entrance when they realize that they were about to miss their race because they didn't hear their race number called. It would be nice if they added TV screens that display the current and upcoming race numbers with estimated wait times all over the venue. Other than those problems listed, I think all of the other aspects like the go-kart race, arcade, and cleanliness of the venue, are up to standards.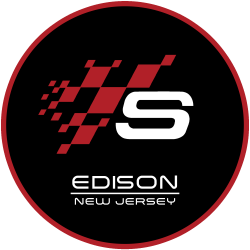 For the food service and attractions Supercharged provides, I think the value of all of it is pretty worth it. 28 dollars for a go-kart race may seem a bit excessive, but the race itself is enjoyable. Just prepare to spend a good 2-5 hours on this value as there are a lot of experiences to try out. If you want to have a fun weekend with your friends or just by yourself, then I highly recommend trying out Supercharged in Edison, New Jersey!
Leave a Comment
About the Contributor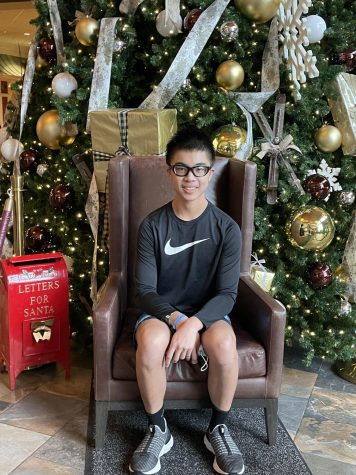 Wallace Lau, Sports Editor
I'm a Junior at Piscataway High School. This is my 3rd year working for the Chieftain and this is my 1st year as the Sports Editor. I like going to the...