New Netflix Show 'Wednesday' Filled With Chills, Surprises, and Laughs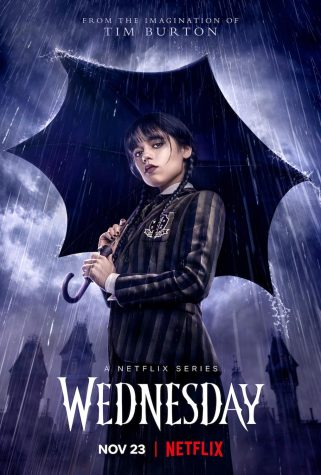 Hitting number one in most liked T.V. Shows on Netflix in just 2 weeks, was Wednesday, a comedy horror series starring up and coming actress Jenna Ortega. Consistent cliff hangers, plot twists, slight gore, and committed acting make this show a captivating watch. If you're looking for a show to keep you on the edge of your seat, then Wednesday may be for you!
This Addams family adaptation is 1 season with just 8 episodes, and they are only available to watch on Netflix. It follows the storyline of Wednesday, an edgy, intelligent, deadpan teenager, as she is forced to attend the 'outcast' high school her mother and father once went to, called Nevermore. Here she navigates the use of her newly discovered vision powers to uncover the secrets of the weird connection she has with this high school. During her journey, she makes new friends, goes on a dangerous adventure, and learns who she can really trust.
The original idea of the Addams family came from a man named Charles Addams. He was a freelance cartoonist born in 1912, Westfield, New Jersey, and those that knew him say he acted just like his characters, odd and mysterious, and had the comedy of "Uncle Fester". As far as the making of the characters, it was said that Addams based Morticia off of his previous wives, mainly his first wife Barbra Jean Day. But when it comes to talking about the first appearance of this spooky family, you may be surprised to know that it was really in a series of comic panels in 1938. Around 26 years later, in 1964, a sitcom was created, inspired from this comic series. Several more Addams family movies/series appeared years after that, leading to the newest Addams family show that we have now.
Another show in 2022 that I would say reminds me of Wednesday is Stranger Things. They are pretty similar when it comes to horror, comedy and mystery, although Stranger Things seems to be more comedy than horror, whereas Wednesday is more of a dark comedy. I would say Wednesday is a show made for people who want to be enamored by the suspense and still get a slight laugh here and there. Be prepared for lots of twists and cliffhangers while watching Wednesday.
A positive about this show is that it is mostly family appropriate (however there is violence that might not be suitable for young ones). Another positive is the remarkable acting in this series: Jenna Ortega plays Wednesday confidently with the outspokenness of the character. The series also features Christina Ricci – former Wednesday from the Addams Family movies – and the wonderful Catherine Zeta-Jones as Morticia Addams.
Overall, Wednesday is a great show to watch with your family because of its great acting, exciting plotline and non-traditional teenage twist to a classic movie series. If you're looking for a good source of entertainment over the weekend, Wednesday could be it!
Wednesday is currently streaming on Netflix.
Leave a Comment
About the Contributor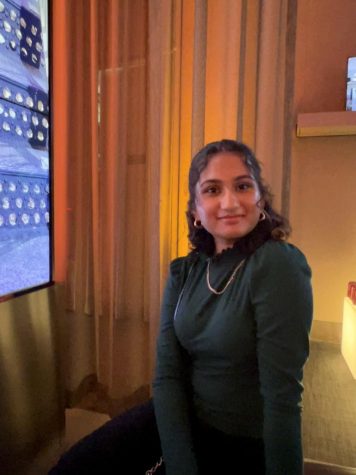 Insiya Chitalwala, Culture Writer
Hi my name is Insiya, and I am excited to contribute to the newspaper as Co - Editor in Chief this year! I love watching comedy and action movies, reading...