Maroon 5 "V": A Classic Album that Deserves Another Spin
Music may seem to be just a combination of instruments and lyrics, but to many, music is a language. A way of life. An escape. The music people listen to can help define their characteristics, interests, dislikes, their past, or even what they seek in the future. There are so many different genres of music, individual artists, groups, duos, and more that transformed that very word of "music," and the history it has. This review is on an album close to myself, Maroon 5's "V" album. This is not me saying it is the best album Maroon 5 has released, or even saying it is my favorite. Rather, I will be giving my (somewhat biased) opinions on this work, so whether you are a fan of Maroon 5 or not, I hope you continue to give this a read.
M5 has previously been recognized as Kara's Flowers, which was the active group name from 1994-2001. With the addition of guitarist James Valentine in '01, the band went from Kara's Flowers to Maroon, but then would settle with Maroon 5. "V" has 14 songs, and is 40:10 in duration. It was the first album released through Interscope from Maroon 5, as their previous albums went through A&M Octone Records. The group has won multiple awards, and received dozens of nominations for their music since its founding. Maroon 5 won "favorite pop/rock band/duo/group" in back to back years, 2011 and 2012. They also won "top digital album" in 2007 for "It Won't Be Soon Before Long" and four awards for "Girls Like You" featuring Cardi B in 2019. Those specific awards were as follows; Top 100 Hit Song, Top Collaboration, Top Radio Song, and Top Selling Song. M5 has won three Grammy awards, one in 2005, 2006, and the last in '08. "Best New Artist" in '05, and "Best Pop Performance by a Duo or Group with Vocals" for "This Love" in the Live- Friday the 13th performance and "Makes Me Wonder," 2006 and 2008, respectively. However, the list of awards and nominations does not end here for the group.
For many Maroon 5 fans such as myself, there is a notable shift with some of their newer music, such as songs featured in the last released album, "Red Pill Blues." These newer songs have a greater technological presence, but specifically soundboards. In previous, popular singles and albums from Maroon 5, they performed more like, well, a band. You could hear the individual voices of each instrument and the musicians who were performing. In V, many people believe this was the last, truly authentic form of the musical group. Every musician had a part, and the overall songs on the album were not trying to imitate the world's current popular music. Instead, Maroon 5 was just being themselves.
The first two songs on the album are ones you've probably heard before, whether a fan of the band or not. "Maps" and "Animals" are two of many largely recognized songs that have been produced by this band. "Maps" is the lead single from "V", which was released back on June 16th, 2014. Per Youtube as of April 2021, the Official Music Video was viewed over 451 million times. As for "Animals," the Official Music Video received over 732 million streams according to the band's YouTube channel.
Also on the album is a song featuring pop singer and songwriter Gwen Stefani. "My Heart Is Open" comes in at number 11 on "V," at a duration of 3:57. Gwen Stefani is a well-established American singer and songwriter. Stefani was the lead singer for No Doubt, a group founded in 1986. You also may notice the name as Stefani was a judge on NBC's The Voice, a show where singers compete for a shot at a record deal. These judges help the participants develop themselves along the way, and try to help their team make it through as many knockout rounds as possible. Lead singer of Maroon 5, Adam Levine, was also a long-time judge on the show.
V is made up of songs about love, cheating, failed experiences in love, and the overall concept of a relationship. Just with the song titles alone, one can identify the common theme. "It Was Always You," "New Love," "Coming Back For You," "Feelings," "My Heart is Open," and more. Let's take a look at some basic lyrics from a few of these songs, starting with Maps. "The map that leads to you / following, following, following to you." "It was always you / Can't believe I could not see it all this time, all this time / It was always you" (from the song, "It Was Always You"). "Show me that phone in your pocket girl" ("In Your Pocket"). "I've got these feelings for you" ("Feelings"). "Don't be afraid to give your heart to me" ("My Heart is Open"). Simple but powerful lyrics reflecting on or on the topic of being in a relationship. Whether you are crazy in love, single, or just a fan of the band, you will still be able to enjoy this music. I listen to the album on repeat driving to and from work everyday. These songs do not get old, but they do carry a strong overarching theme if you were to sit down and dissect the lyrics.
On the other side of the album, the audience critique's Maroon 5's songs found on "V". Yes, the majority of songs featured are about love and the hardships that may come with it, but some also say these songs are inappropriate and unnecessary. Take "Animals," the second track on this album. "Baby I'm preying on you tonight / hunt you down, eat you alive / Just like animals". Or "Maybe you think that you can hide / I can smell your scent for miles". And how about "You can pretend it's meant to be / but you can't stay away from me". These lyrics are very expressive and vivid, also depicting a toxic and potentially dangerous relationship. The relationship appears to be more of a predatory-prey like connection, for lack of a better word. Even in "Maps," a guy is bound to find his lover or partner after endless issues and a seemingly unhealthy relationship. Signs of obsession are also present in the lyrics. Though the lyrics are just that- words over an instrumental track, some may instantly find this album revolting and disturbing, the way a man is treating the woman he was (at least once) in a relationship with.
Lead singer (Adam) Levine's vocals are crisp and easy on the ears. A great singer and extremely talented musician, Adam's voice perfectly delivers the songs on this album with his range and tonality. As for the band, collectively, many M5 fans say this was the last album with "real" music. With technology rapidly developing, and using sound boards as well as other tactics to create rhythm and melody, the overall effect of a full band is starting to disappear. Listeners no longer got the sense that they were listening to a band, but rather Adam Levine and sound boards. That cannot be said for this album, however. Prior to the release of album "Red Pill Blues" (2017), which caused heavy controversy over the direction the band was moving, consumers were able to get the real deal. All members of the band are heard and the songs blended nicely.
Ths album was a big hit for me dating back to its release. These songs would constantly be played on a loop, and so were many other hits by the band. Though this may not be my favorite M5 album (I would give the nod to either "It Won't Be Soon Before Long" or "Songs About Jane") the featured music is enjoyable and entertaining. If you're looking for the nostalgia of some of the band's biggest hits of 2014, and the overall experience of listening to genuine music produced by Adam Levine and Co., "V" is an album that you should definitely give a listen to, especially before Maroon 5's next album, "Jordi," releases on June 11th, 2021!
Leave a Comment
About the Contributor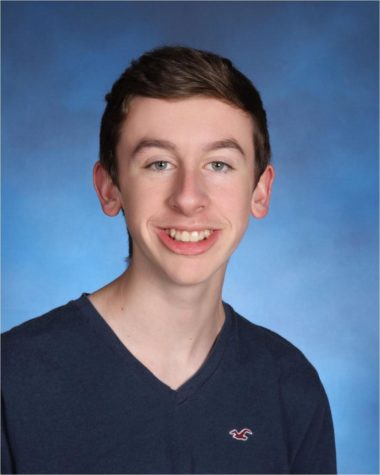 Nicholas Morgan, Athletics Editor
Hi! My name is Nick and I am a junior. This is my first year as a writer and editor for The Chieftain, but my interest stemmed from a hopeful future in...