The PHS Coffeehouse Returns with a Night of Emotional Student Performances
Poetry and music return to the Anthony Commons on a night to remember
For the first time in two years, the Piscataway High School choir students put on wonderful performances during the PHS Coffeehouse, which took place earlier this Spring. The students put together several pieces as a full choir, presented emotional original poetry verses, executed solo songs, and demonstrated their musical talents as several individuals played instruments, beat-boxed, and took up a spotlight on stage in the Anthony Cafeteria.
The official emcee for the night, Hannah Batingal, announced that they were so close to reaching the fundraising goal of $4,000 to support senior scholarships and more due to the entire cafeteria being filled with attendees.
"I was scared. There were so many people and we did not expect it to be as sold out as it was. When everyone showed up I was like 'oh my gosh this is really happening.' During the second act it felt like I was going to pass out, but it was okay in the end because I had my friends there with me and I've sung around them so many times before. It was really nice," claims Isaiah Rivera who finally got to experience his first Coffehouse event.
The seniors displayed their dedication to the choir and their passion for singing as Choir President Jada Squires and Vice President Claire Okamoto had a handful of speeches throughout the night and sang alongside members they consider to be family.
"[This being our last Coffeehouse performance] made it really special. Especially since it was our first one in two years. I got to sing with my best friends and it felt so much more sentimental than any other performance," mentions senior Hannah Mathew who took her last bow as a PHS Coffeehouse performer.
The genre of songs throughout the night included pop numbers, musical hits, original songs, indie covers, and more. Every time a performer finished their piece, they would immediately change into a brand new outfit to match the vibes of the next song they were partaking in.
"Our song was a piece that I thought of and kind of put together and taught Najm and Isaiah, so it was a proud moment to hear both of them perform it. For their age they are so talented. I'm just really proud of them and I was very impressed. To have the solo in the chorale group song it was great too because I was among my peers and I felt the support from them. I was sharing that solo with Jada and we're really close. I'm so inspired by her so it's really cool to sing with her. Then to be able to accompany Bella Voce on guitar when I'm not the most comfortable playing guitar in front of an audience, I felt so much love and support from them too," announces Hannah Mathew who appeared in a trio, as an accompanist on acoustic guitar, and a soloist.
The huge crowd of parents, siblings, relatives, and friends erupted into applause after each group sang their hearts out in the center of the room. The audience was collectively clapping on beat during a rendition of Aretha Franklin's 'Respect', which was led by Savannah Wheeler, holding up their cellphones during a cover of Ed Sheeran's 'Dive' sung by Ethan Vito, and listening in awe to the gifted voices of Piscataway students during every minute of the night.
"Seeing my friends in the background felt good because I know they are always there to support me and will always have my back. These are the people that motivate me all the time and to have them be there in person feels great," emphasizes Najm Muhammad who wore an outfit he designed himself during his emotional performance of 'Heart of Stone' that received several standing ovations.
The students truly came together to collaborate and learn from each other as the full chorale performances flowed smoothly.
"It was another proud moment since [Bella Voce] was doing so great and Mrs. Suozzo was right next to me. To have someone you see as your mentor/teacher be playing alongside you is such a cool moment. It was probably one of my favorite high school experiences so far," revealed Hannah Mathew as she reflected on the show.
In her original poem 'Alone,' Morgan Fitch mentioned "I want to be important enough to be remembered," and she, along with all the other talented students of Piscataway High School most definitely will be.
Leave a Comment
About the Contributor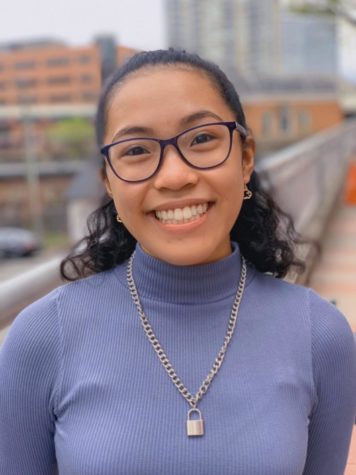 Kayla Gonzales, Co-Editor in Chief
Hi I'm Kayla! I've been the co-editor in Chief since last school year, and I enjoy writing and editing stories. I love learning various things and watching...