TV Show Review: On My Block
Starring a diverse friend group living in an urban neighborhood, On My Block is a compelling show that keeps the viewer constantly clicking "next episode." The Netflix original aired on March 16, 2018, and since then has been increasing in views with every new season. The show takes place in South Central Los Angeles, an area known for impoverished neighborhoods and gang violence, which the creators of the show, Lauren Iungerich, Eddie Gonzalez, and Jeremy Haft, incorporate well into the show.
The series is a teenage drama filled with comedy, romance, and some violence, leaving the viewer at the edge of their seat. Cesar (Diego Tinoco) is caught in a war between the Santos and the Prophets, two gangs that are running the city the group lives in. Cesar's family is part of the Santos, causing Cesar's friends to desperately try to get him out, but danger follows him wherever he goes. Monse (Sierra Capri) and Cesar fall in love, but with Cesar's life constantly on the line, and Monse's dad always on the road, romance and happiness struggle to coincide with the two. In addition, Monse finds it hard to connect to her past, particularly with her own mother, which sparks even more problems for her besides love.
Growing up in a poor area, money seems to be a continuous problem in each of the teen's lives. Jamal (Brett Gray) is obsessed with mysteries and the legend of the RollerWorld money, a huge sum of cash that was taken by two Santos members, hidden, and never found. The robbers were arrested and died in prison, causing the secret of the fortune to be buried with them as well. Due to that, no one has been able to find the money or even confirm that the legends were true. When gunshots rang out which cost someone's life and the potential loss of another life, the need for money sets Jamal on a quest for the buried treasure.
Ruby (Jason Genao) is a complex character and a hopeless romantic. Ruby falls in love with the girl who moved in with his family after her family got deported, and later ends up liking a friend he never expected to. He's the type of person to risk it all for the ones he loves and is very determined to keep everyone together. His abuelita is Jamal's go-to gal for the RollerWorld mystery.
 Ranging from gang life, pure comedic relief, typical high school drama, relationships, family dynamics, and money troubles, On My Block has a little bit of everything for everyone to be interested in. In a sense, it goes in all different directions, but ultimately comes back to one central theme: friendship. These 4 teens have been through every possible emotion together, and no matter how many times they try to leave each other, some new adventure keeps pulling them back where they started.
Leave a Comment
About the Writer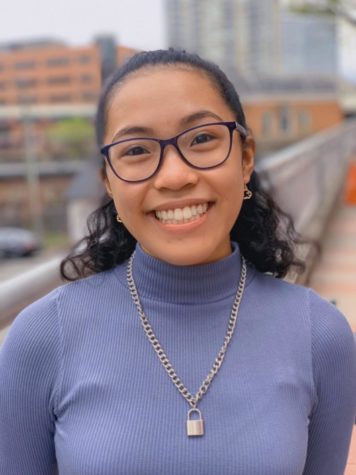 Kayla Gonzales, Co-Editor in Chief
Hi I'm Kayla! I've been the co-editor in Chief since last school year, and I enjoy writing and editing stories. I love learning various things and watching...