Olivia Rodrigo's Sweet Debut Album, Sour
A fresh new voice with a lot to say bursts onto the music scene
Former Disney teen star, Olivia Rodrigo, released her debut album, Sour, on May 21st, generating over 301 million US streams within the first week. Prior to the release of the album, Rodrigo dropped three songs, "Drivers License," "Deja Vu," and "Good 4 U" where the first and third singles charted #1 on the Billboard Hot 100 songs chart, and her second charted #8. Each song on the album delves into deeper themes like confronting the pressures of stardom, navigating complex relationships, and figuring out who we really are. These themes convey powerful emotions that keep thousands of listeners putting the songs on repeat.
Growing up in California, Rodrigo landed her first big role as Grace in An American Girl: Grace Stirs Up Success in 2015. By 2016, Olivia Rodrigo starred as Paige in the Disney comedy show Bizaardvark. The show came to an end in early 2019, but by the end of this year, Rodrigo was casted as Nini, the lead role in High School Musical: The Musical: The Series (HSMTMTS). Nini's love interest is Ricky, played by Joshua Bassett, who becomes an important part in the drama for her first single. Rodrigo's voice in HSMTMTS soon created a fanbase for the actor as she helped write many of the songs on the show's soundtrack including "All I Want" and "Just a Moment."
Bassett and Rodrigo grew very close during the filming of the first season, but tensions arose as Sabrina Carpenter, another well-known Disney singer/songwriter/actress entered the picture. Bassett and Carpenter were seen together multiple times in public, and even spent Halloween of 2020 in matching Sharkboy and Lavagirl costumes. Throughout quarantine, Rodrigo teased many of her songs through her Instagram, including an early version of "Drivers License." The original line in the second verse used to say, "And you're probably with that brunette girl, the one I always thought about.", which caused many to wonder about her relationship status.
The situation escalated when Olivia dropped the final version in January 2021 with new lyrics saying, "And you're probably with that blonde girl, who always made me doubt…" Fans instantly resorted to social media to talk about the changes in the song, including the hints at potential relationships amidst Rodrigo, Bassett, and Carpenter. None of the relationships were ever confirmed, and Olivia Rodrigo stated that she hardly knew Sabrina Carpenter, so she would not have been able to write a meaningful song about her.
After the drama went viral all over TikTok and other social media platforms, Carpenter released a song titled "Skin" just a few weeks later. Within the first verse, what allegedly is a response to "Drivers License," Carpenter playfully sings, "Maybe you didn't mean it, maybe blonde was the only rhyme."
Through a caption under an Instagram post, Carpenter responded to the speculations surrounding the lyrics stating, "I wasn't bothered by a few lines in a (magnificent) song and wrote a diss track about it. I was at a tipping point in my life for countless reasons. So I was inspired to do what I usually do to cope, write something that I wish I could have told myself in the past."
The purpose of the song was to demonstrate a way for Sabrina Carpenter to prove to everyone that she was not going to let anything "get under her skin" anymore. With regards to whether or not "Drivers License" is about a complex relationship, it most definitely is a song written by a seventeen-year-old girl who expresses her feelings in a way that brings out the best in her: through music.
Olivia Rodrigo's Sour contains 11 different tracks, each one uniquely showcasing her talent and range. Starting off strong with track one titled "Brutal," she created a highly relatable song full of teenage angst and catchy lyrics that make you want to shout at the top of your lungs.
The young actress's frustrations and discomfort with her sudden popularity are evident in the lyrics, "And I'm so tired that I might quit my job, start a new life. And they'd all be so disappointed 'cause who am I, if not exploited?"
Rodrigo's lyrics provide an insight into her new life, how she is constantly in the media day after day, and her experience with the pressures of Hollywood stardom.
Track two, titled "Traitor," is one that has blown up on Tiktok since its release, and has become one of the most popular songs on the album. Through the lyrics, Rodrigo feels as if her partner was never telling her the truth. The most notable lines come from the chorus saying, "It took you two weeks to go off and date her, guess you didn't cheat, but you're still a traitor." For context, other verses in the song mention that she was wary of the girl her boyfriend was friends with as they were constantly talking while he reassured her that there was nothing going on.
"Drivers License" is track three, and is probably Rodrigo's most popular song to date as it brought her clear recognition into the music industry. Her idol, Taylor Swift, even commented under one of Rodrigo's Instagram posts. After Rodrigo posted how she was next to Swift on the iTunes chart, Swift responded, "I say that's my baby and I'm really proud." The duo eventually met up at the 2021 Brit Awards where Rodrigo gave a live performance of the song on stage.
Track four, titled "1 step forward, 3 steps back," is written about how one of her previous non-platonic relationships became confusing and conflicting all at once. Her uncertainty is demonstrated in the words, "Do you want me, love me, hate me? Boy, I don't understand." As Rodrigo used parallels to Taylor Swift's song, "New Year's Day," Taylor Swift is credited as a writer for track four.
"Deja Vu" and "Good 4 U" are tracks five and six respectively, and further demonstrate Rodrigo expressing the 7 stages of grief that she is experiencing. Both songs trended on TikTok as the catchy lyrics and creatively directed music videos influenced hundreds of content creators to use their acting skills and put their own spin to the songs. "Good 4 U" utilizes a similar chord progression to Paramore's "Misery Business," which generated a lot of interest from older fans who grew up listening to the pop punk band.
Track 7 is titled "Enough For You." It describes how Olivia Rodrigo felt that she was never good enough for the person she loved, and was constantly wishing she could be everything they wanted. At the turning point in the song, Rodrigo sings, "I'd say you broke my heart, but you broke much more than that. Now I don't want your sympathy, I just want myself back." She realizes that she was never the problem in the relationship, and that someone else will prove to her that she is everything they could ever want.
Representing the stage of grief that covers acceptance, track eight titled "Happier" shows how Rodrigo is starting to come to terms with the new girl in her ex-boyfriend's current relationship. The comments she makes have hints of jealousy as she sings, "So find someone great, don't find no one better. I hope you're happy, but don't be happier." While she understands that her ex has moved on, she secretly hopes that she was a part of the best relationship he will ever have.
In track nine, "Jealousy, Jealousy," Olivia Rodrigo talks about all the people she sees living their best lives, and how she wishes she had that life instead. The first lines of the song are, "'Cause all I see are girls too good to be true, with paper-white teeth and perfect bodies, wish I didn't care." Afterwards, she mentioned different emotions such as being jealous of the girl with a rich family and the seemingly perfect life. It brings up the point that teenagers these days are constantly comparing themselves to random strangers on the internet and wanting to be anybody but themselves.
Track 10, "Favorite Crime," is the last song about her heartbreak. It ends bittersweet as she sings the lines, "I was going down, but I was doing it with you" and "I hope I was your favorite crime, 'cause baby you were mine." Rodrigo longs for a relationship that she knows was not good for anyone, but continues to wish that it lasted.
Concluding the Sour album is "Hope Ur Ok," a song full of stories about kids who are outcasts and unaccepted by their families. The lyrics are beautifully written, and Rodrigo says they are her favorite lines on the album. She lets the listeners know that even when things have been extremely hard in the past, she is proud of them for trying their best.
The final sentences Olivia Rodrigo uses to close out the album are, "Well, I hope you know how proud I am you were created. With the courage to unlearn all of their hatred. God, I hope that you're happier today. 'Cause I love you, and I hope that you're okay." These lyrics provided comfort and security for many of Rodrigo's fans who expressed on social media that they cried after hearing those words.
Olivia Rodrigo's music has defined a new age of heartbreak songs as her debut album has taken the music industry by storm. With such confident songs coming from such a young voice, I can't wait to hear where she decides to go from here.
Leave a Comment
About the Contributor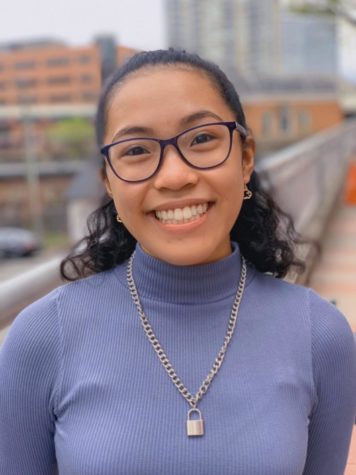 Kayla Gonzales, Co-Editor in Chief
Hi I'm Kayla! I've been the co-editor in Chief since last school year, and I enjoy writing and editing stories. I love learning various things and watching...