New Mask Rules at PHS Divide Students
Piscataway students react to Governor Murphy's optional mask policy for NJ Schools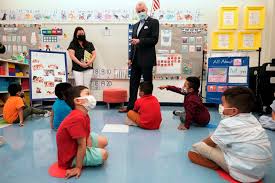 As Covid-19 cases wane across the United States, a myriad of states are ending their mask mandates for their schools. In New Jersey, Governor Murphy announced on February 7, 2022 that masks will no longer be required in schools and child centers after March 7, 2022. However, Murphy noted that each school district can keep their mask mandate if they feel it's necessary.
In Piscataway, the school district decided that they will go mask optional on March 28, 2022. Piscataway feels the need to delay the mask option to allow students and teachers to complete their vaccinations, and for the transmission rate of Covid-19 to diminish. While some PHS students want to go mask free, other students want the mask mandate to remain in place.
The gender gap between mask wearing for males and females is pretty significant. A study conducted by Natural Geographic found that 56% of males always wear their mask, while females are about 64%. Females are clearly more comfortable wearing their mask in public places, while most males tend to support going maskless. When I asked PHS Sophomore Taksh Patel if he supported Murphy's decision to go mask free, he completely supported Murphy's decision.
"I fully support [Murphy] because the virus has been going on for too long," said Taksh. "I don't think I will wear my mask as usual as now."
Taksh is not the only male student that wants to go mask free. A PHS student that decided to go anonymous states that he concours Murphy's mask optional policy
"I think the decision to remove masks is good because [New Jersey] showed significant change towards the positive side," said Anonymous. "I don't plan to wear my mask after [March 28, 2022] because I feel safe with the amount of vaccines."
Some critics of the recent decision point to the fact that perhaps the school should have waited a bit to remove the mandate. Here's what a male Junior had to say when asked if the school should have waited a bit longer to remove the mandate.
"Definitely not, in fact the school should have done this earlier. COVID cases have flattened in February, we have already waited enough."
Some PHS students are rather indifferent to the mandate being removed. A male PHS Junior who requested to stay anonymous did not express strong support for the mandate removal, but thought that it was overall a welcome decision.
"To be honest, I don't think it will really have much of an effect on me, it doesn't really seem like a big deal. I would like the freedom of not having to wear a mask, it's one less responsibility to worry about if I forget my mask at home."
Another student (male Junior) brought up an interesting point:
"I don't really think it [decision to remove mask mandate] will have much of an impact in general, many students already don't wear masks…after this mandate is removed, students will just have one less thing to worry about."
In general, it seems that males are fatigued from all the mask-wearing in public places. Boys are more energetic than girls, according to a study by www.sciencedaily.com. Males want to go back to some sort of normalcy as quickly as possible. However, females are more hesitant about Covid-19. For example, a PHS girl that decided to go anonymous believes that Murphy's decision to go mask free is absurd.
"I think that Governor Murphy's decision to lift up the mask mandate is counterproductive," said Anonymous. "I plan on wearing my mask because I have high risk people in my family."
While one girl desires to take precaution steps to keep her peers and family safe from Covid-19, another PHS student that also wants to go anonymous is a bit dubious about Murphy's plan. She believes that Murphy should postpone his policy to a later date.
"I feel like Governor Murphy's decision to lift the mask mandate wasn't a bad idea, but at the same time I feel as though he should've waited a little longer," said Anonymous. "Yes, I still plan on wearing my mask after March 28th because I want to protect myself from the virus."
In generalization, males and females are fairly mixed on the controversial topic of masking in public schools. Although Covid-19 cases in Piscataway have plummeted, since January of 2022, the virus is still prevalent in Piscataway. Everyone has a different opinion about masking up, but it's proper for everyone to respect school and state guidelines, as well as each other's opinions.
Leave a Comment